Jean Hénaff wants to keep its culture alive as it is already the case for more than a hundred years while adopting the current management and governance practices based on well being, respecting each other and listening to its employees, partners and suppliers,but also to its consumers and to the players of the civil society.
Lean Management
Promoting wellbeing at work
In 2019, employee's wellbeing at work was estimated at 95%. Regarding Jean Hénaff two subsidiaries, Kervern and GlobeXplore, the company hasn't receive any information whether about a deterioration or an improvement of well-being at work.
Considering the pandemic crisis, Jean Hénaff preferred focusing on investigation about telework. This investigation was in progress in 2021 for the two subsidiaries. The french company was very pleased to notice that the frequency rate and severity rate of the occupational injuries slightly decreased in 2020. The frequency rate was 86.73 in 2019 versus 46.51 in 2020. The severity rate was 1.55 in 2019 versus 0.80 in 2020. Jean Hénaff has to maintain these results in 2021.
The company pays attention to the indicators measuring the wellbeing of its workforce. Despite an increasing turnover over the past two years, employees' seniority remained stable over the past four years. Jean Hénaff also notice that 25% of its employees joined the company less than five years ago and that 25% work within the french company for more than 25 years.
Discover the interview of Philippe Chancerel Jean Hénaff group scientific director, co-worker for 30 years.
Personalizing the career path
Gender equality index for the group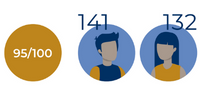 According to the French Ministry of Labour index, Jean Hénaff calculates and annually publishes its score regarding gender equality. This year, the score is 95/100 for the Jean Hénaff group. It was 92 in 2019 which is very encouraging. The french company is aware that this very high score forces us to maintain a certain level of excellence.
For 2020, Jean Hénaff lists 3 promotions, i.e a change of position with a salary increase or an advancement. The french company also recruited 28 employees, 12 of whom from its breeding ground (interns, or from temporary work or temporary contracts, etc.).
"Joining the Jean Hénaff company for my final year internship, I wasn't expecting to live such a great experience. The Research, Marketing, Development & Innovation service welcomed me with open arms: goodwill and good mood are two words perfectly describing this team and the whole staff. Thanks to their advice, I came out of my shell, developed my skills. At Jean Hénaff, every single employee is important and plays a role in the development of the company. Today I am proud being a member of the Hénaff family and working for a company which highlights the Breton know-how while affirming its commitment for a sustainable development."
– Canelle Bellesœur, Started as an intern, then hired as a communication officer with a permanent contract.
---
Staying #1 partner for our suppliers
Driving some Communautés de progrès
To make the manufacturing of its flagship products durable, the french company identified four priority sectors: pig, seaweed, fish and white pepper.
Jean Hénaff wants to gather the suppliers of these four activities in collaboration groups called communautés de progrès in order to set up, together, some plans to progress (plans de progrès). The company needs to give priority to these topics with its suppliers in order to serenely develop a common activity.
The Covid-19 crisis has confirmed once again that it is essential today to have a solid and lasting relationship based on trust with suppliers. For example, Jean Hénaff purchases our raw materials from sustainable and local agriculture.

We are very pleased to have welcomed in 2019 three groups of hog breeders (organic and conventional) in a communauté de progrès to think about how to improve animal welfare. In 2020, the adventure continues with the final selection of the last breeders to join the pig Communauté de Progrès.
*APAK is a Breton fishermen's organization to share tools and resources.
**EVEL'UP is a network of companies, cooperatives for an organic farming
Ensuring a fair partnership
Through its Communautés de Progrès, Jean Hénaff puts into place multi-year contracts to help our suppliers meet our raw material requirements. Multi-year contracts enables the french company to create a fair-trade relationship based on trust with its suppliers.
All the pepper used in Hénaff recipes comes from the small islands of São Tomé and Principe, one of the smallest countries in Africa, located in the Gulf of Guinea.
Long a Portuguese colony, this country declared its independence in 1975. Each year and for 11 years now, the island of São Tomé – 200 000 inhabitants – full of natural resources, provides us with 12.6 tons of peppercorns.
Respecting the terms and conditions of its multiyear partnership, Jean Hénaff gives a financial advance to the producers and assure that a fixed price is paid. Thanks to these actions, 400 families decently grow pepper on the island.

The belief of this small country is quite the same of ours. According to Francisco Martins, the Minister of Agriculture of Sao Tomé, « our aim is to focus on quality, not on quantity ».
The french company, Jean Hénaff was very lucky meeting Francisco in January 2020, it strengthened its link and commitments with this Communauté de Progrès collaborating with the NGO AGRISUD International and the company Hom&Ter Développement which organizes distribution channels for organic products.
Discover more about the organic cooperative in São Tomé.
---