France is well know for its significant gastronomy culture. There are many ways to taste french canned products ; during appetizer on raw vegetables or grilled bread, during a break on soft bread, cooked in soup, etc.
Here you will find some Vietnamese recipes to surprise your customers during a tasting of french premium food.
The characteristics of the Vietnamese cuisine
Full of flavors

The Vietnamese cuisine is the great balance of the five taste elements of sweet, salty, bitter, sour, and spicy. It results an aromatic and subtle dish with a complex flavor.
The Vietnamese cuisine balances flavors but also the climate condition.
The south-eastern climate is characterized by two distinct seasons:
the rainy season
and the dry season.
Vietnamese chefs believe that every ingredient has either a "warming", either a"cooling" properties. For example, duck meat is considered fresh and therefore should be served in the summer. Chicken is a hot food, so it is served in the winter and accompanied by a sour sauce which is considered fresh. The chef strives to create the perfect balance between the different elements of each dish.
In general, locals consume more likely dishes in liquid form which gives a feeling of freshness. Lẩu (fondue) or Hủ Tíu (noodles) illustrate this point perfectly, because both dishes are in the form of broth.
The must Vietnamese recipes for a tasting of french premium food
Banh mi, Vietnamese spicy sandwich
Across the Atlantic, banh mi was elevated to the world's top 10 best street food in 2012. In France, its success is more recent despite the fact that it has been present there for more than 30 years.
What is a banh mi ?
The history of banh mi dates back to the time of French Indochina which existed between 1887 and 1954, and to which Vietnam belonged.
Banh mi, or bánh mì means cooked dough (banh) and wheat (mi). It refers to a baguette made from wheat flour and rice. At the beginning, banh mi sandwich was made with butter, mayonnaise, and pate or roast pork. In fact, bánh mì paté still exists today, a version of the sandwich made up of a wide variety of pâtés as the main garnish.Banh mi has nevertheless known how to evolve by immersing itself not only in the culinary culture of its adopted country, but also of those of its region through spices, aromatics and local ingredients.
Yet, there is plenty recipes of banh mi ; grilled pork, fish steack, sardines, etc.
Hénaff Banh mi sandwich with French Liver Pâté in Vietnamese can for a tasting of french premium food
Material:
Bread
1 can of Hénaff Pork Liver Pate 130g
Sausages, all kinds of cold meats
Cucumber, green onion, herbs, pickles, coriander, chili
Soy sauce, mayonnaise.
How to do:
Warm up the bread to make it crispy
Use a small knife to cut bread in half, spread the Hénaff pork liver pate, add sausage, cold meat, cucumber, chili… depending on your preference.
Add soy sauce, mayonnaise and enjoy.
Discover the French Liver Pâté in its conventionnal can in French and in English packaging and/or its version certified by the USDA.
Bo Kho, Vietnamese beef stew for a tasting of french premium food
Bo Kho is very popular and recognizable thank to carrots and its star anise and lemongrass flavor.Vietnamese has different way to eat Bo kho depending of the regions.
In the North, the Vietnamese eat it as a soup for breakfast, while in the center it is served with noodles as a main course.
Bo Kho, Vietnamese beef stew with French Farmhouse Pâté from Hénaff
Material:
300g beef shank
1 can of Hénaff Farmhouse pate 130g
2 carrots
2 potatoes
1 box of ketchup
Coriander, green onions.
Cooking oils and spices
How to do:
1. Prepare and marinate beef:
Wash the beef and then use a paper towel to absorb the water, you can leave the whole slice or cut the meat into small pieces about 2 fingers.
Marinate the meat with 1 tablespoon sugar, 1 teaspoon salt, 1 tablespoon soy sauce, 1 teaspoon seasoning powder, 1 tablespoon cooking oil, 1 little ground pepper, 1 teaspoon garlic, minced shallot and mix
Allow the meat to absorb the seasoning evenly. Marinate for about 30 minutes
2. Preliminary processing of other materials:
Peel the onion and cut it into thin slices.
Green onions, after being washed, cut into pieces about 2 knuckles long, carrots and potatoes are peeled, washed, and cut into bite-sized pieces. Note that you should not cut too thin when cooking, it will easily be crushed.
3. Beef stew:
Put 1 tablespoon of cooking oil in the pot. When the oil is hot, add 1 tablespoon of the minced onion and garlic mixture. When the onions and garlic start to turn golden, add the spiced beef to the pot, stir until the meat is firm and golden brown.
Add to the pot 100g of tomato sauce, stir-fried potatoes, carrots, and then add 500ml of filtered water (you can use broth or coconut water) so that the water covers the meat, cook on low heat for about 40 minutes until the meat is cooked. soft meat.
4. Beef stew with pate:
When the beef is tender, carrots and potatoes are cooked, continue to add about 90g of Hénaff Farmhouse Pâté into the pot, mash the pate and stir well. Bring to a boil over medium heat and when the mixture boils again, season to taste.
Tip: You can lightly sauté the pate with unsalted butter to make it more flavorful and delicious before adding it to the casserole.
Put the dish in a bowl, sprinkle a little more ground pepper, add green onions, chili peppers and a few herbs on top and you're done.
Bánh tráng Nuong ( Grilled rice crêpe)

Bánh tráng Nuong is a traditional Vietnamese street food that you can eat thanks to street vendors. This recipe is prepared with rice papers, that are made of rice that you have to wet in water and grind into a fluid paste for steaming.
This traditional Vietnamese recipe is made with quail eggs, dried pork, dried shrimps and green onions. It is also garnished with chili sauce and mayonnaise.
It is to perfect quick recipe to make for a tasting of french premium food.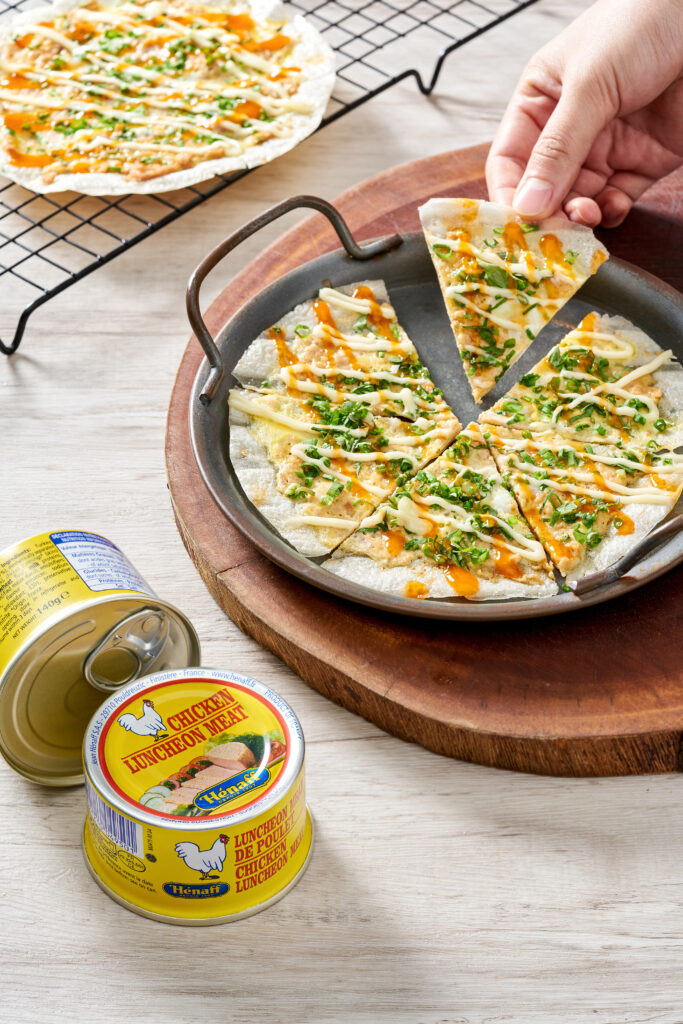 Material:
4-5 sesame rice paper, thin type (or Cu Chi rice paper)
1 can of Hénaff Chicken Luncheon Meat 140g (french chicken pâté)
10 quail eggs
Green onions, laksa leaves, fried onions, mayonnaise, chili sauce.
How to do:
Use a brush to spread Hénaff Chicken Luncheon Meat evenly all over the surface of the rice paper
Continue to crack 2 quail eggs and spread the eggs evenly on the cake.
Add scallions, fried onions and chopped laksa leaves on the cake.
Put the pan on the pot, wait for the pan to heat up, put the rice paper on the pan and bake it.
Remove the cake from the pan, add mayonnaise and chili sauce. The cake can be cut into small triangles or rolled up and cut into bite-sized pieces.
Material:
200g beef
50g peeled, minced garlic
1 sliced onion
1 egg
A half of sweet corn
Onion
Cooking oil, pepper, salt, oyster sauce, soy sauce, sugar, chili sauce…
How to do:
Wash the beef, dry with paper towels, and marinate with 1 teaspoon minced garlic, 5 tablespoons soy sauce, 1.5 tablespoons oyster sauce, 1 tablespoon sugar, 1/3 tablespoon pepper. Marinate for 15 minutes.
Tip: you can use a pestle to lightly tap the surface of the meat to make the meat tender and absorb more seasoning.
Put a pan on stove, put 2 tablespoons of cooking oil in the pan, wait until the oil is hot, add the minced garlic and sliced ​​onion, stir-fry over medium heat for about 2 minutes until the onions and garlic are fragrant.
Add marinated beef and sauté evenly on both sides with medium heat for 3 minutes on each side, then add 1 slice of Hénaff Pork Pâté and crack an egg. Keep the pan on the stove for another 2 minutes until the eggs are cooked, the pate is golden, then turn off the heat and enjoy with grilled sweet corn.