Food and wine pairing is essential to enhance the food and beverage's flavors. But from my point of view, it is always complicated to find the best wine pairing for each food or pâtés.
That is why, Viviane, export manager for Boutique de France and wine lover has kindly provide me her top ranking wine pairing with premium french pâtés from Hénaff Sélection.
Wine pairing with premium french terrines
Here our top wine pairing with premium french terrines
Hénaff French Rabbit Pâté With Prunes offers you the alliance of the authenticity of a rabbit terrine with the sweetness of prunes. A terrine with classic and essential flavors.
A gourmet recipe made with rabbit meat and seasonings. Hénaff plays with contrasts by combining the authentic taste of rabbit terrine with the sweet taste of prunes.
Serve it with a large slice of country bread and pair it with a light body red wine like a pinot noir from Burgundy.
Medium body red wine or a blend of GSM (Grenache Syrah Mourvèdre)
You will be surprised by this creamy sweet pepper spread with cheese. Enjoy this delicate texture that is easy to dip in or to spread on a toast.
This recipe is prepared with a hint of tabasco and a fresh cheese. It's a real pleasure to share with friends and family all year long. Impress your guest with this fresh snack to serve with veggies sticks.
This appetizer will be just perfect with a light and crispy rosé wine.

This delicious terrine is prepared with duck meat, origin France. The black figs is also put on front into this traditional recipe, bringing a touch of sweetness and provide a crispy texture to this tasty terrine.
You can serve this terrine, on crackers for more texture and pair it with a medium body red wine that has fruity nose like a Côte-du-Rhone or a blend of GSM (Grenache-Syrah-Mouvèdre.)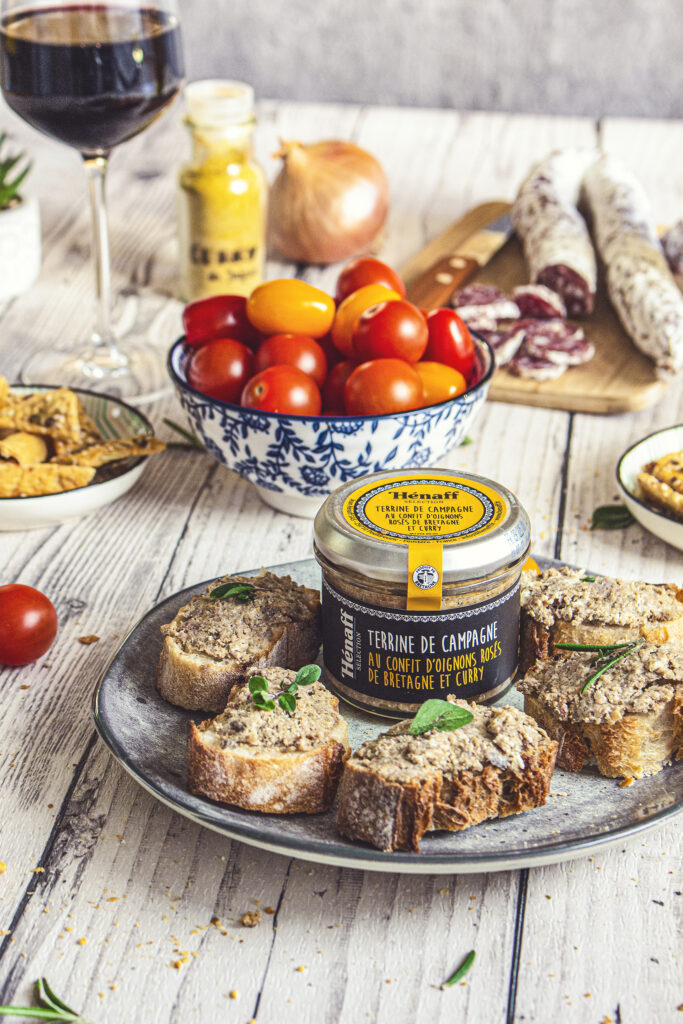 Pork Rillettes in glass jar 90g are easy to spread and share with family or friends for an authentic tasting experience. The main ingredient of these rillettes, pure pork from French origin.
The same care and attention is given to the whole recipe, from the choice of the best pork pieces to its preparation and slow cooking.
Hénaff prefers a long, slow cooking time that results in a deliciously succulent meat confit. The result is a uniquely smooth taste experience.
Rillettes are perfect served on a slice of fresh farmhouse bread.
Serve at room temperature to bring out the full taste. Our recommendation of wine pairing will be with a glass of white if your prefer a white with residual sugar you'll get a long mouthful ending on the pairing, if you prefer your white wine dryer, you get a short and clean finish on the palate.
The farmhouse terrine with dried tomatoes seduces with its simplicity and its authentic taste. Hénaff modernizes its classics by enhancing the taste of country pâté with dried tomatoes and small pieces of zucchini for freshness.
With this revisited recipe, you can enjoy this french terrine for dinner on a nice slice of country bread. It will also delight and surprise your friends during your next appetizers in summer… as in winter. To select a wine to pair with, you might go for a merlot coming from a dry and hot wine region or even a tempranillo grape varital.
Discover all our premium french terrines in glass jars dedicated to fine food stores worldwide.
---