What is traditional french charcuterie?
Charcuterie refers to all salted meat preparation prepared, most of the time, with pork meat such as; ham, pâtés, terrine, rillettes, black puddings…
Charcuterie plays a significant role in the french gastronomy. In France, in 2015, 87%* of French people would be affected the disappearance of the traditional french charcuterie. Why? They are attached to the traditional french charcuterie, synonym of "terroir" (part of our authentic traditional French food culture) and regional know-how.
*According to the Fédération française des industriels charcutiers traiteurs ("French federation of prepared-meat industries, prepared-food suppliers and meat processers")
Discover all about the delicious meat food products of the traditional french charcuterie.
What are the differences between traditional french charcuterie?
How to tell in the pâtés?
In France, we categorize three different pâtés in the traditionnal french charcuterie:
1) Pork Pâté: a preparation based on pork meat.

2) Liver Pâté: a preparation obtained by mixing and cooking of liver and fat of animals.
3) Farmhouse Pâté: a french culinary preparation based on meat and pork giblets. The grinding of meat is bigger, so the texture is less soft than a liver pâté. Farmhouse Pâté is a french terroir product that can savor on grilled bread.
Did you know ?
Many french regions have their own farmhouse pâté such as Brittany or Catalan.
---
What about Terrine? | Traditional french charcuterie
Pâté and terrine are must of the time consider as the same product, but there are an entirely different. Terrine is a high quality pâté. At Hénaff, we offer terrines made with pork, poultry and game mainly in glass.
In France, the word "terrine" can also designate: a terracotta container, intended for cooking food.
Sometimes, both terrine (meat preparation and recipient) are for sale to the consumer or in the catering department, disposable or reusable.
Discover all our traditionnal french terrines in glass or cans.
---
Are rillettes part of the traditional french charcuterie?
Popularized by the city of Le Mans, Pays de la Loire, from the beginning of the twentieth century, rillettes (similar to the quebecois charcuterie "creton") are made with a preparation based on pork or poultry meat. Sometimes you can even found with fish rillettes (salmon, tuna, mackerel…).
In order to offer a soft and melting texture int the mouth, rillettes must be cooked slowly. This product is spreadable with a pleasant stringy texture. We recommend you to serve it in apple slices to provide a fresh note.
To make a change from eating rillettes on crackers or bread, you can serve them on top of granny smith apple slices and enjoy this crispy fresh option. This fresh apple complimented with yuzu seaweed pearls will bring acidity and crispness to your bites.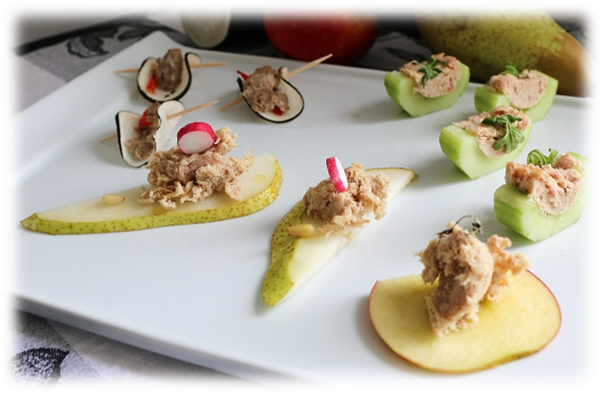 Discover the traditional french canned seafood: