At the supermarket or the grocery, we can feel a bit lost in front of too much choice. So many cans, tin plates and glass jars of seafood. Which one to choose ?
Furthermore, at Gonidec Cannery, we often heard : "There is an issue, there was sardines in the ordered canned anchovies". I assure you that anchovies are present in our canned anchovies and sardines are in canned sardines ! Here the explanation why sometimes people believe that there are sardines in our canned anchovies.
This article aims to highlight differences between sardines an and anchovies.
How to tell sardines from anchovies?
Sardines VS Anchovies
Sardines (aptly named "silver fishes")
Sardines have bluish skin colouring and more flesh to eat on the "belly" part. Sardines are about 20 cm (7.9 inches) long.
French canned sardines are most of the time whole sardines in oil (groundnut, sunflower, etc.) or sauce (tomato, lemon, etc.). You can also buy them in fillets or spreads.
3 good reasons to eat canned sardines:
Recommended for their nutritional qualities, sardines are very high in omega 3.
Those fatty acids, members of the lipid family, are essential for the development of the human body because our bodies cannot make them.
The Quality Department, at Cannery Gonidec, controls each fish batch to evaluate if fishes fit with our size and fat content specification. Its high-quality control allows to offer premium products with significant nutritional values.
2. An excellent source of vitamins (B and D), minerals and trace elements, such as calcium, magnesium, iron, etc.
3. Easy to cook in cold or hot dishes.
"In Brittany, sardines are fished from May to November. Sardines might be fished outside this period, but the fat content is then insufficient. A low fat sardine, which we call a "green sardine", will be tough for the palate. Sardines are migratory fishes, its presence remains a mystery. It's difficult for us to forecast or know when sardines are,or aren't there… but in the end it's reassuring, nature has the last word." – CEO of Cannery Gonidec, Jacques Gonidec.
🎣 Fishing season: from May to November
Fishing area: North Atlantic and Mediterranean areas
Fishing technique: purse seine
Discover our 8-10 small canned sardines.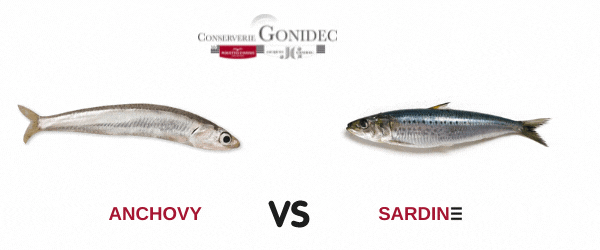 The anchovy skin is silver grey. Its back has light shades of blue or green. Anchovies are 14-20 cm (5.5-7.9 inches) long.
🎣 Fishing season: from July to November.
Fishing area: North-east or East Atlantic.
Anchovy is thinner than sardine and its eyes are larger. The flesh of the anchovy is firmer and takes longer time to get better in the oil. If you want to enjoy them in their best light, you will have to be patient before opening your tinned Whole Anchovies Extra Virgin Olive Oil.
Vitamin A, iron, and even Omega 3, anchovy is full of nutritional values essential for our health!
French preserved anchovies are easy to buy especially salted anchovy fillets, which are very common. You can also find whole anchovies in oil.
Unlike salted anchovy fillets, we prepare the "Mouettes d'Arvor" anchovies in extra virgin olive oil like our sardines. Cannery Gonidec follow the six main steps of the sardine canning process below:

How to differentiate Gonidec's vintage and collector canned seafood?
Vintage sardines are very limited edition prepared with fresh sardines caught in the year. Sardines de Saison 2020, for example, are made with fresh sardines fished between June and September 2020. Once vintage sardines are out of stock, we can't produce them anymore. This products become rare.
We give you a tip! We recommend you to store our Vintage sardines for a few years. Like a good French wine, sardines get better over time.
Stay tune with launch our vintage limited edition 2021 in few days.
Collector cans are prepared with high-quality fresh sardines and aren't limited. Sardines Marin Breton, for example, are produced every year and all year long.
Discover our limited and collector cans.
---
---
What about mackerel?
The mackerel is 20-30 cm (7.9 – 11.8 inches) long. Its back is blue-green, this black striped fish is easy to identify with its silver white belly.
🎣 Fishing season: from mid-November to mid-April depending on the fishing area.
Fishermen harshly face the stormy waters of the North Sea and the English Channel to catch these migratory fishes.
Fishing technique: purse seine.
At the Gonidec cannery, the delicate flesh of the mackerel is carefully prepared respecting the traditional know-how to preserve its authentic iodic flavor. Mackerel is a very nutritious fatty fish, rich in vitamins, good for your health and can be cooked in a thousand ways.
---
---
The Gonidec cannery is strongly committed to get its supplies following demanding criteria such as seasonal fishing calendar, local fishermen, etc. Currently, more than 80% of the fishes prepared at the cannery are caught off the coast of Concarneau, Brittany, France.
Furthermore, the cannery is located near the port of Concarneau. There, committed workers immediately check the quality of fresh fishes and will only accept the best quality catch. The company cares about fishery resources and chooses abundant species, avoiding endangered ones.